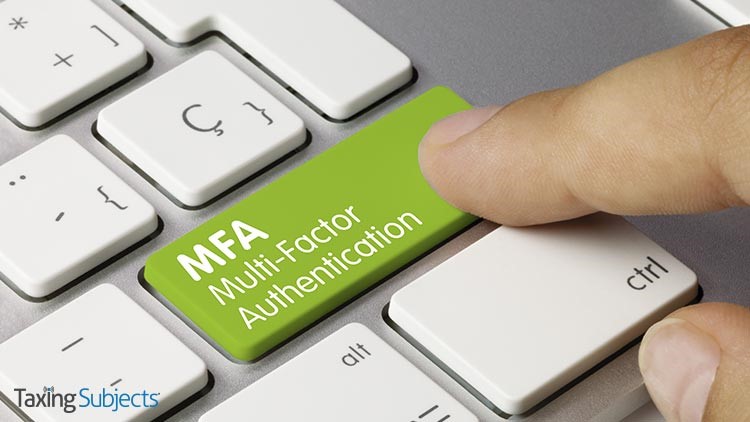 Day two of National Tax Security Awareness Week is all about multi-factor authentication. Following opening day warnings about the increased number of phishing scams that taxpayers will face over the holidays, during tax season, and throughout 2021, it makes sense that the second day emphasizes a security measure that the Internal Revenue Service says "will be available on all 2021 online tax preparation products."
"The agreement to add the multi-factor authentication feature is just one publicly visible example of the ongoing collaboration by the IRS, state tax agencies, and the tax industry, which work together as the Security Summit," the IRS says. "2020 marks the fifth year of the Security Summit and of National Tax Security Awareness Week."
How does multi-factor authentication protect improve account security?
Multi-factor authentication is a term used for accounts that require more than one piece of user-provided information to access. While this process can take many forms, the IRS says that users may be required to enter a code that is texted to their phone or sent to an authentication app to log in. (Those who have enabled multi-factor authentication on a web-based email account like Gmail or Yahoo! Mail are already familiar with the process.)
But why does multi-factor authentication work?
"Thieves use a variety of scams—but most commonly by a phishing email—to download malicious software, such as keystroke software … to steal all passwords from a tax pro," the IRS explains. "However, with multi-factor authentication, it's unlikely the thief will have stolen the practitioner's cell phone—blocking the ability to receive the necessary security code to access the account."
Multi-factor authentication is an optional feature—and you should use it!
The IRS rightly points out that "no product is fool-proof," but that doesn't mean individual security features aren't effective. When it comes to multi-factor authentication, the IRS flat-out states that the feature "does dramatically reduce the likelihood that taxpayers or tax practitioners will become [identity theft] victims." But you can't be protected by something you don't use.
To read more about day one of National Tax Security Awareness Week, check out our blog, "National Tax Security Awareness Week Opens with a Warning."
Source: IR-2020-266